Flexibility in the endurance sports world is typically viewed as a way to prevent injury and correct biomechanics inefficiencies. In cycling, flexibility of the calf and more specifically the soleus muscle, has a large impact on the power one can produce while riding in the seated position.
POWER
The ability of the ankle to dorsiflex while at the top of the pedal stroke (12 o'clock) is largely due to the flexibility of the soleus muscle. If an individual has an inflexible soleus, the foot is typically plantar-flexed at the top of the pedal stroke, instead of dorsiflexed.
If the foot (i.e., ankle) is plantar-flexed at the top of the pedal stroke (12 o'clock) and continues in this position during the downstroke, a large percentage of energy is pushing forward and not downward. Additionally, if the foot transitions from plantar flexion to dorsiflexion (heel down, toes up) during the downstroke, power is being lost (i.e., think: lost = absorbed) through flexion of the foot.
Conversely, if the foot is at the end range of motion (static position) in regard to dorsiflexion during the down stroke, it offers a solid platform to "push against," as lower leg muscle activation that acts to stabilize the foot is minimized.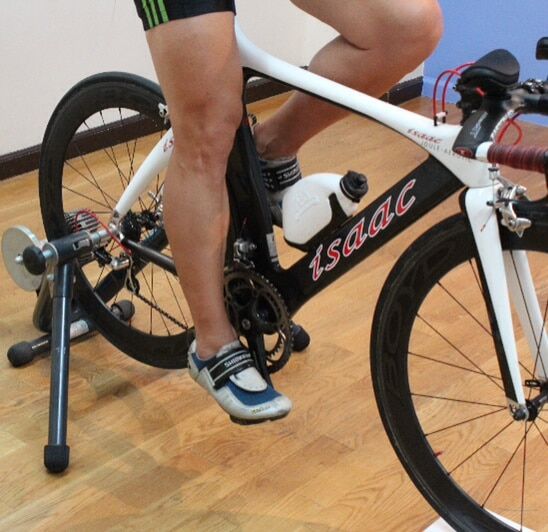 CONCLUSION
The position of the ankle and thus the flexibility of the soleus throughout the pedal stroke has a profound effect on the power output of a rider.
So… want to get faster? Focus on calf (i.e., soleus) flexibility.
To stretch your soleus, push your heel down while your knee is at approximately 90-degrees (ex: In a standing position, put the ball of a foot on the edge of a bench and push down with the heel). Or use a band as shown below.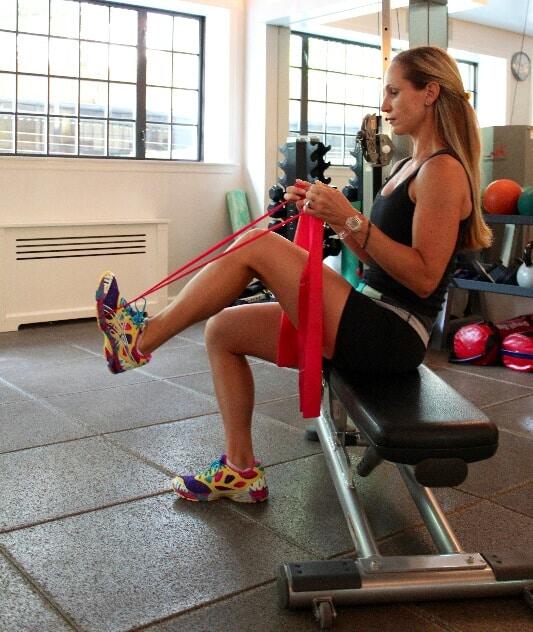 ---
Learn more about our certifications and get $50 OFF the purchase price!
Download the UESCA Triathlon Coach Course Overview/Syllabus
Download the UESCA Running Coach Course Overview/Syllabus
Download the UESCA Ultrarunning Coach Course Overview/Syllabus
Download the UESCA Cycling Coach Course Overview/Syllabus
Download the UESCA Endurance Sports Nutrition Course Overview/Syllabus